The House
Romana G. Urmanczy Couture is a Romanian brand, dreamed up by Romana G. Urmanczy.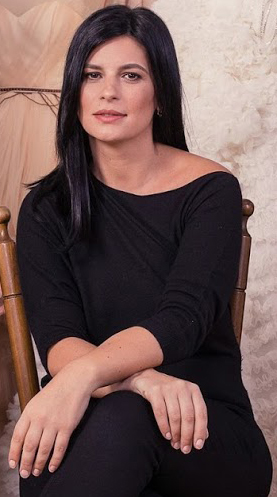 She has started with a clear vision: to transcend trends and instead to design future vintage pieces that would be loved for seasons to come.

Romana:
"With time, I developed a feeling for brides. A single meeting is enough for me to be able to identify what characteristics they come with, and how those will embed with the dress, if it will be a more rigid look, or a more fluid one, or will the cuts and lines make a bigger impact on what the dress communicates. If it comes out perfectly done, I point towards the team I work with, if it doesn't go well, I always point the finger towards me. This is my policy. Seems simple. I spend hours in a row in dusty storage rooms filled with fabrics, I go to antique fairs and I imagine doing something with materials which people don't care about. I buy bracelets and trinkets, I open them up, then glue different parts to certain objects and just build art through this process. From a second-hand shop I bought a scarf and made flowers out of it, I was always this way. It's the world I always find myself in – I touch any material or texture dictates me the geometry, direction. Yes, many times I use duchess, shantung, natural silks that usually find in Paris, I pay a lot of attention to the quality of the materials I use. Although, for me nothing compares to a rare lace, random finds which provoke me to push myself to use them in such way that I bring them to life. That is when I feel like I am really living it. I think every single woman has something unique and beautiful. This thing needs to be identified and speculated when you create a gown, especially a personalized one. This word, personalized, doesn't quite sit right with me anymore, I'm not just here to execute orders, I believe that I can positively influence a bride's expectations. Pre-concepts are unavoidable, but manners need to top. In a word, there are two things here – there is natural and artificial beauty. Sometimes the difficulty of choice/decision making a bride is dealing with tires me, but I regather myself and don't give up on her. Instead of "do what you want" I prefer "let's create something beautiful together, which represents who you really are". It is a very difficult path, but satisfaction comes as deserved, on both ends."


For her, nothing compares to a rare lace, which makes her use them in such ways that they become livelier.